ENGIE Laborelec has just signed an important framework contract with BERAN (CMTG group) allowing the UK company to market its TORSO Detect and TORSO Protect solutions in the British Isles.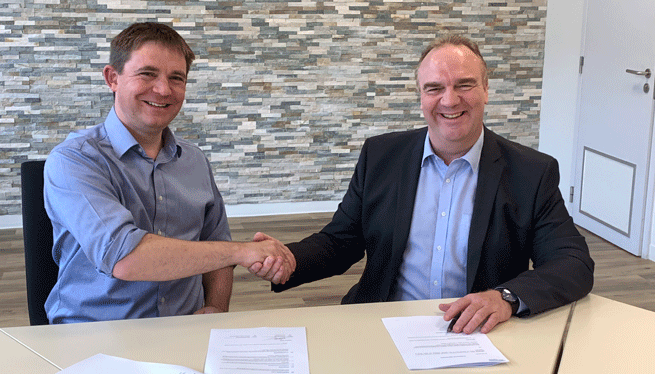 The agreement was officially signed on June 21 by ENGIE Laborelec CEO Michael Marique (on the right) and Douglas Graham (on the left), Operations Director (CTMG and BERAN).
Addressing torsional vibration risk in shaft lines
The addition of the two TORSO products to the BERAN portfolio (online vibration condition monitoring and protection systems for critical rotating machinery) will offer British Isle customers the same game-changing means to easily address the risk of harmful torsional vibrations in shaft lines that ENGIE Laborelec customers across Europe already enjoy.
Why this is critical today
The reason or need to target the British Isles market is similar to that of Europe in that, among the most harmful conditions for turbo groups, torsional vibration is one too often overlooked or under monitored. But that is changing everywhere due to globally increased interactions of wind and solar power and power electronics with national and regional grids. With the new norm of constantly changing grid circumstances and inflow of renewables resulting in less inertia of the grid there is a far higher risk of torsional vibration potentially causing dramatic failures. This makes it an issue that, today, requires very particular attention by everyone.
Sharing is caring for all
"The introduction and need to increase and support renewables in the energy mix is well appreciated by ENGIE Laborelec" explains CEO Michael Marique. "But, at the same time we also need to be aware of and focus on the challenges and practical impacts this creates down the line. For this reason, we are happy to be able to share our TORSO solutions with BERAN for their British Isle customers and look forward to a fruitful and ongoing collaboration with the potential for sharing or exchanging other solutions useful to both our markets. Operational peace of mind and forwarding the energy transition need to go hand in hand."