Orchestrating airborne wind energy, PV, and battery storage to maximize self-consumption
ENGIE Laborelec is participating in the Aquilon project at a Storengy gas storage facility in Germany. The project deploys innovative airborne wind energy technology, a PV installation, a redox-flow battery, and an energy management system, to significantly reduce the facility's carbon footprint.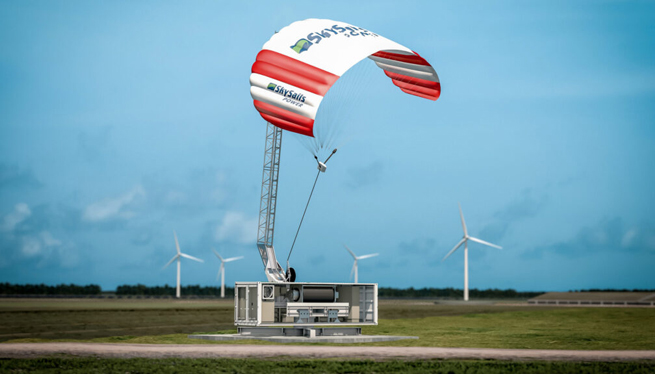 As the gas storage market leader, Storengy develops and operates a comprehensive network of facilities across Europe. In line with ENGIE's long-term commitment to net zero, their Peckensen natural gas storage facility in Germany recently launched a project to decarbonize its operations.
The Aquilon project deploys an annual production capacity of 1-GWh renewable energy, power storage using a 420-kW redox-flow battery, and a carefully tuned energy management system to maximize self-consumption. The project receives €2 million in funding from the European Union Innovation Fund's small-scale project programme.
Airborne wind energy, an exciting innovation
Aquilon's eyecatcher is undoubtedly the deployment of a SkySails airborne wind energy (AWE) solution, a technology that uses a giant kite to harvest wind energy at higher altitudes than wind turbines.
Launched from a mast on a ground platform, the kite makes meticulously controlled yo-yo movements at altitudes between 200 and 400 metres, driving a generator inside the ground platform to produce electricity.
Co-developer, owner's engineer, and EMS supplier
Yet the use of airborne wind energy is not Aquilon's only innovation. The project's ultimate purpose is to maximize self-consumption of this power produced by renewables using a well-tuned energy management system and the system's redox-flow battery (RFB). ENGIE Laborelec is engaging its teams of wind, storage, EMS and microgrid experts in a comprehensive multidisciplinary effort.
"We will in fact assume a triple role in Aquilon," explains Laborelec expert Olivier Van Oost. "In the first place, we are a co-developer of the whole solution, committed to developing a sound business case for the project. At the subsequent deployment stage, we act as the owner's engineer, managing the tendering and purchasing process and validating the RFB and AWE converter performance. And we're also the supplier of the energy management system, which will tie the different components together."