Safe maintenance interval extension roll-out in gas-fired stations
In 2021, ENGIE Laborelec worked with OEMs to scrutinize the methodology for gas turbine maintenance interval extension (MIE), confirming that our approach is safe and can be used in most gas power stations.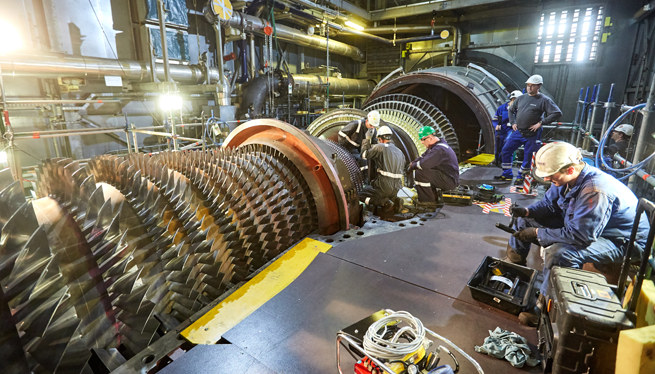 For core equipment, gas-fired power station operators see MIE as a promising pathway to significantly bring down investment and operating costs. Maintenance and reconditioning can be extended from once every 33,000 operating hours to every 41,000. But there are some risks involved because extending maintenance intervals goes against initial OEM recommendations.
Structured approach from decades of experience
For this reason, ENGIE Laborelec has developed a smart MIE program based on decades-long experience with almost every common type of gas turbine. The program is designed to assess the risks associated with extending maintenance intervals and to take measures to mitigate these risks.
A failure mode and effects analysis (FMEA) is carried out on the machine in question, assessing how frequently a failure is expected to occur, how severe it would be, and whether it would be detectible before the system crashes. We then develop a maintenance matrix for the installation, listing around 60 potential vulnerabilities requiring attention, including design specifics such as the coatings used and the position and size of cooling holes.
Engaging with OEMs and insurers
During the year, we worked with Ansaldo to evaluate our method using the specific case of the AE94.3A turbine at the Leini power plant in Italy. Our assessment was that the maintenance interval could be extended from 33,000 to 41,000 operating hours, which we put into effect in agreement with the insurer. We subsequently carried out a destructive analysis, cutting some of the blades and investigating the microstructure. The blades proved to be in good shape even after the extended interval, confirming the validity of our method.
The approach was successfully applied to three GT26 units at the Combigolfe, Cycofos (France) and Tocopilla (Chile) power stations with positive support from the OEM and the insurer. Laborelec expert Luc Gooren has observed a shift in attitudes: "Our work on the Leini and Tocopilla power stations confirms that OEMs and insurers are both beginning to be more positively inclined towards MIE programs."
Further risk analyses are ongoing
Meanwhile, we successfully applied MIE to almost all the ENGIE gas-fired power stations in the EU, and we're continuing the program elsewhere, rolling out safe MIE deployment on a global scale. We are also now carrying out risk analyses to investigate whether maintenance intervals can be extended even further.