ENGIE Laborelec's root cause analysis (RCA) activities for CCPPs have seen enormous growth over the past few years. Customers appreciate our comprehensive multidisciplinary approach and our capacity to successfully challenge OEMs and other stakeholders.
The company has been conducting RCAs of issues occurring in electrical and mechanical equipment at ENGIE's fleet of combined cycle power plants for several decades. More recently, the service has been extended to assist external power plant owners and operators. In 2021, for example, four major RCA projects were carried out by Laborelec engineers to investigate various kinds of damage occurring in gas turbine compressors at power plants in the Middle East and Turkey.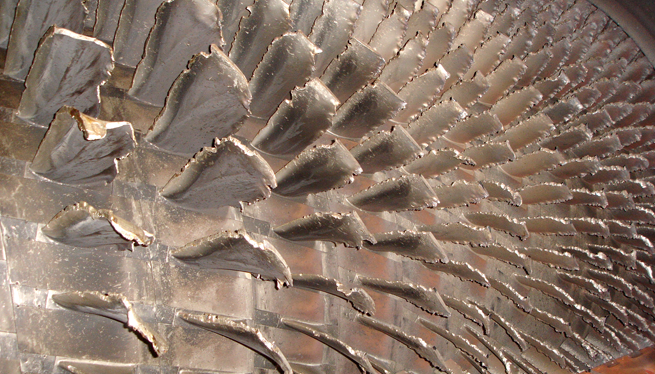 Acting fast, deploying multidisciplinary expertise
In every RCA, acting fast is crucial, mobilizing experts and setting up fact-finding missions on the ground as soon as possible after incidents occur. Relevant evidence of any kind is collected, including as-found asset condition, operational circumstances, process parameters and human interventions prior to and during the event. Components and material from the damaged equipment are selected for further investigation.
After the onsite mission, there are a series of in-depth investigations in the laboratories, calling on Laborelec experts in materials, processes, vibrations, and structural mechanics, who then iteratively analyze dependencies and contingencies to determine all the factors contributing to the event and identify the root causes.
Successfully challenging stakeholder viewpoints
Most importantly, Laborelec is then able to challenge any parallel analysis made by the OEM as well as the measures they recommend to preserve asset integrity. Other stakeholders are challenged too.
In one case last year, Laborelec engineers demonstrated that the initial analysis by another consultant was inaccurate and unreliable, subsequently uncovered the actual cause of the event, and made much more pertinent recommendations.
Preventing operators from taking unacceptable risks
In another case, Laborelec provided life-saving advice to an O&M company who wanted to resume operation of their power augmentation system after an equipment failure, even before the RCA had reached a conclusion. In numerous discussions – sometimes tough because of the significant impact on plant profitability – Laborelec experts demonstrated that this would incur unacceptable risks.
"Our in-depth RCA can make a huge difference for operators," sums up Laborelec expert Xavier Degive. "And we've shown that we're well-prepared for even the most demanding cases."
Would you like to learn more about this project?