In addition to end-of-warranty inspections, ENGIE Laborelec increasingly provides auditing services for wind turbines 10 to 15 years old. This helps owners decide whether and how they should further invest in these first-generation turbines.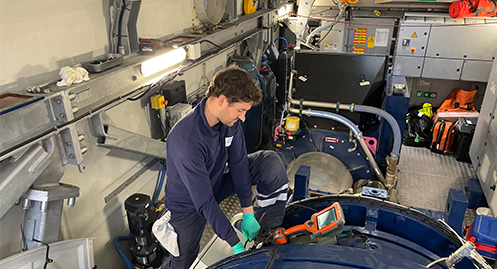 Our OEM-independent end-of-warranty (EoW) wind farm inspection involves an in-depth look at the turbines' core components, including the blades, gearbox, and generator. Last year, for example, we carried out a major EoW inspection project on the 165-MW Belgian Nobelwind offshore platform, which first came into operation in 2017.
We are also increasingly called upon to carry out similar inspections at much older wind farms of the first commercially viable generation, typically consisting of 2-MW turbines. Owners want to decide which O&M strategy they should pursue for these older assets.
Collecting facts and arguments
We have been carrying out quite a number of such inspections lately, primarily for ENGIE. The audit involves more-or-less the same procedures as an EoW inspection, with a major focus on the gearbox and generator. However, rather than recommending a claim to the OEM, it's more about collecting facts and arguments for prolonging the wind farm's operation.
Many factors need to be considered, including the fact that receiving permission to develop a new project can easily take four years or more. Laborelec expert Stephane Bronckers clarifies: "If we can demonstrate that these 2-MW assets could perform well for a few years more without having to invest a lot, we recommend giving them another round."