ENGIE Laborelec is participating in a research project aimed at developing better prevention and mitigation strategies for handling leading-edge erosion (LEE) in offshore wind turbines.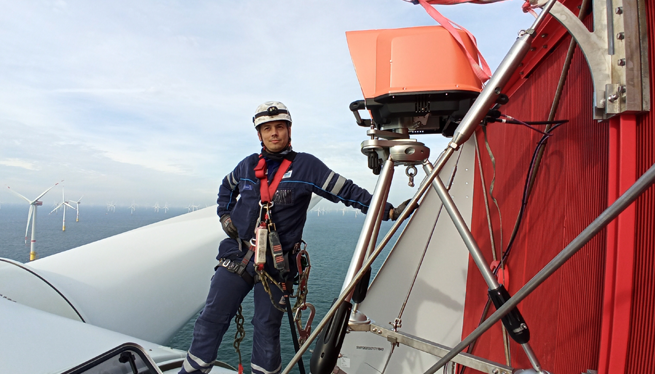 LEE is a topic of growing concern for the larger latest-generation wind turbines. The trend towards longer blades leads to much higher nominal tip speeds. Consequently, raindrops and hailstones have a much heavier impact on the blade surface, making it rougher and impacting its aerodynamic performance. Eventually, protection layers erode and expose the blade laminate. Annual repair costs can run into millions of euros for a sizeable 500-MW wind farm.
Monitoring the power curve over four years of operation
To deal with this important issue, ENGIE Laborelec has engaged in the RAINBOW project funded by Flanders Innovation & Entrepreneurship. The project aims to acquire a deeper understanding of LEE and develop new preventive maintenance solutions and better strategies for inspecting, monitoring, and repairing blades.
Our work has focused on one wind turbine in the Rentel-Otary development off the Belgian coast. In November 2021, we installed and put a Lidar measurement system into operation on the turbine's nacelle. Measuring will continue until the project is due to close in 2024, allowing us to monitor the turbine's power curve, an indication of how its efficiency evolves over time.
Accurate assessment of leading-edge erosion
Lidar measurements will also be used for very short-term weather forecasting two to six hours ahead, known as 'precipitation nowcasting', to gain more insight into how LEE is affected by rain, lightning, and hailstorms. In-depth analysis of these measurements will allow us to evaluate whether gradual efficiency degradation can be used as an accurate indication of ongoing LEE.
We are also developing a decision-making model, allowing operators to use Lidar measurements and analyses to decide at what point in time (or at what level of efficiency degradation) a blade maintenance or repair operation becomes economically viable. Laborelec expert Stephane Bronckers points out the benefits: "Our Lidar monitoring and analysis provides extremely valuable information that can be used to better protect turbines against leading-edge erosion."