In a pilot project in Oud-Heverlee (Belgium), ENGIE Laborelec is carrying out a real-world test to reduce residents' dependence on the grid and maximize their renewable energy self-consumption.
The pilot is our contribution to the MUSE GRIDS project, sponsored by the European Commission, investigating how local communities can be empowered to develop their own self-reliant energy system, based solely on locally produced renewable energy.
The Oud-Heverlee test site is a residential street in a rural area located at the end of a power distribution line. The street has about 40 houses, some of which have been suffering from grid problems such as phase unbalances, voltage swings and even blackouts. Many houses have rooftop PV installations, some are equipped with heat pumps, and quite a few owners have an EV, so the street makes an excellent case for developing a more autonomous and independent energy community.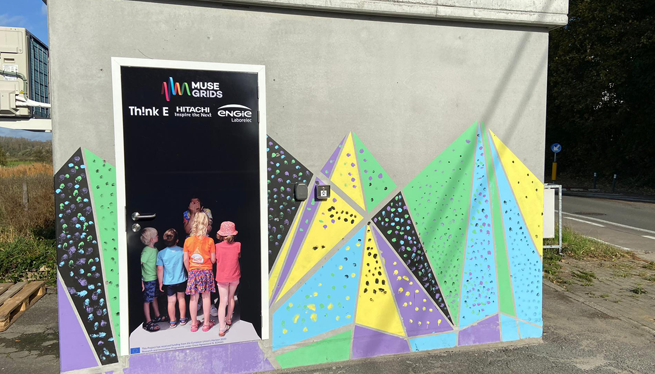 Managing power storage at home and street level
To test this out, additional equipment was needed, including energy storage solutions at street level. Last year, ENGIE Laborelec and project partners tested and installed all the necessary equipment, including a 120 kWh (56 kW) community battery, four 1-kW hybrid heat pumps, two vehicle-to-grid charging stations, and a series of 3-kW water heaters. We also installed measurement systems in all the connected homes to monitor each home's energy consumption and production.
Our cloud-based energy management system decides a day in advance which devices should charge, and when. Laborelec expert Matthijs Doclo outlines the thinking: "The assets shared by the community provide power when it's most needed and store it when power production exceeds demand. The EV batteries can also contribute to fulfilling power demand."
All set for the real-life tests
Everything is now in place for the real-world tests in 2022. During the test period, power demand and supply will be balanced daily using Laborelec's optimization algorithm, which analyzes the power consumption and production of the previous few days and predicts PV yield based on the following day's weather forecast.
The goal is to demonstrate that such an arrangement is viable and contributes to reducing power consumption and making communities less dependent on (capital intensive) grid supply. We also expect that it will encourage homeowners to install additional PV capacity, since increasing self-consumption will mean they should no longer worry that their system is disconnected during periods of excess PV power production.
Would you like to learn more about this project?