ENGIE Laborelec has demonstrated that using a gas fuel mix with up to 25% hydrogen in an SGT-600 gas turbine is safe and requires no hardware modification.
How much hydrogen (H2) can be put in the fuel mix of gas turbines without inducing hardware damage, unacceptable wear, or safety hazards? From March to May 2021, ENGIE Laborelec carried out a pioneering series of tests on an ENGIE operated 24.5MW(e) Siemens SGT-600 gas turbine at the Ineos Phenol plant in the Port of Antwerp to find that out.
Useful preliminaries
We began the project by developing a mixing installation with an expansion kit connected to a truck trailer, which we would then use to feed the mix into the turbine's combustion chamber. We also carried out a preliminary stress test to assess whether higher H2 concentrations would risk inducing hardware damage due to flashback phenomena.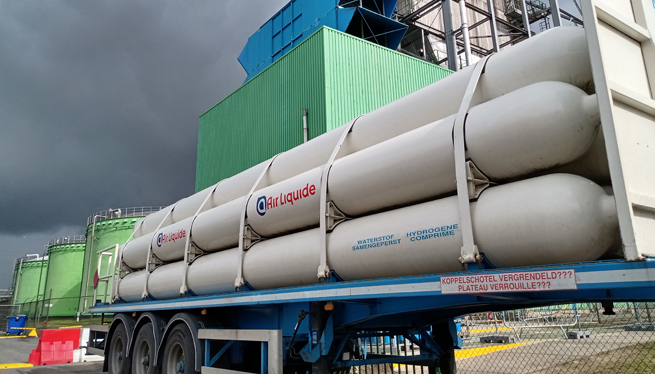 The test, at a DLR research installation in Germany, showed that we could safely carry out testing at the Ineos Phenol plant with up to 30% H2 in the mix, although the OEM warranty allows only a maximum of 10%.
25% H2 mix cuts carbon emissions by 9%
We carried out nine tests in total, gradually increasing the H2 concentration from 2.5% to 25%.
After each test, we carried out maintenance to find out whether hot spots had developed, or any damage had been incurred. We also measured the overall efficiency, the resulting power output, and the CO2 and NOx emissions.
The final test with 25% H2 was a big success, according to Laborelec expert Luc Gooren: "The hardware did not suffer, no additional maintenance was necessary, efficiency and power output remained stable, and CO2 emissions resulting from this combustion went down by 9%."
More H2 projects coming up
On the downside, NOX emissions increased as expected. However, by modulating the combustion we tried to counteract this increase and were able to neutralize it completely with H2 concentrations of up to 10%.
In 2022, we'll be continuing our research into H2 co-combustion and its long-term impact on the mechanical integrity of the downstream hot gas path components as one of multiple H2-related projects. We're developing a testing ground at the Linkebeek site, for example, with a hydrogen electrolyzer integrated into a smart grid that includes a PV installation and battery storage.
Would you like to learn more about this project?