COVID-19 – Customer information regarding the current coronavirus crisis
Dear customer,
Given the situation caused by Coronavirus COVID-19 pandemic, ENGIE Laborelec has adopted a series of exceptional measures with the main objective of protecting the health of our staff, our clients and our collaborators, trying to reduce the possibilities of contagion in a complex and constantly changing context, as well as continue to guarantee the provision of most of our services.
Despite the physical distance, we remain at your service. Thanks to some telework, a good spread of our team on-site and the efforts of all employees, we continue to pursue most of our activities in our well-known result-oriented and flexible manner. While we are unable to organize and attend physical meetings, you can connect with our teams by means of digital tools such as email, Skype, Microsoft Teams, webinars, etc…
We will continue to assess the situation on a daily basis in order to adapt our measures as closely as possible to the realities on the ground and the recommendations of the various Authorities.
I am confident that together we will overcome this crisis and resume our normal activities as quickly as possible.
Stay Safe!
Best regards,
Michaël MARIQUE,
CEO
Services
ENGIE Laborelec offers services to all players in the electricity sector. Electricity producers and grid operators are among our historical customers, but our offer does not end there: we also serve the industry in its broadest sense, as well as communities and the public sector.
Much of our support focuses on the day-to-day operation of our customers' facilities. Our goals are to protect the value of their investments and improve the performance of their assets. But beyond operations, we also provide upstream assistance for engineering companies, investors and others.
Another of our mission is to drive innovation. Because we firmly believe in the virtuous circle of operational assistance and the upstream R&D which feeds it, we're confident that our contracted research services provide essential and well-targeted support to customers when they need it.
So, what can we do for you?
Do you have just two minutes?
Our website is more than just our showcase. It describes who we are, where we come from, and what we do for our different groups of customers. But if you have just two minutes to devote to us, this video is for you. It's a helicopter view of solutions, our areas of operation, and the expertise and skills we can call upon from our 280 dedicated colleagues.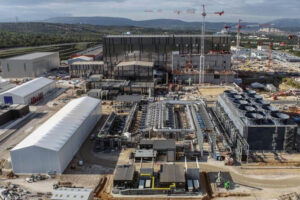 November 17, 2021
The ITER project, in the South of France, has as its goal the construction of the world's largest, 500MW, tokamak…