UET and ENGIE commission first UET Reflex Module
UET and ENGIE announce today they have successfully achieved the commissioning of the first UET Reflex™ Module at the Batteries lab of ENGIE Research Centre Laborelec, located near Brussels. The Reflex™ Module is a small 7.5 kW – 30 kWh redox flow battery of the 4th generation, storing electricity in a vanadium mixed acid electrolyte, and is a modular evolution of the well proved UET redox flow technology, especially suited for installation inside buildings. The battery will be thoroughly tested for performance and operability, prior to its installation in a commercial environment.
"ENGIE strongly believes that redox flow batteries will become an interesting alternative to Lithium ion and lead acid based battery technologies for certain stationary energy applications, offering ancillary services to the grid for example, and will contribute to the transition to a zero carbon economy.", says Luc Goossens CTO from ENGIE RESEARCH "The installation and testing of this UET Reflex module will enable ENGIE to benchmark Vanadium redox flow batteries against other technologies, fully understand their behaviour, optimise the operational procedures. The long term follow-up of the performance will be realized through ENGIE Laborelec's proprietary monitoring platform Monica."
"UET has developed a compelling value proposition with the UET Reflex™ Module, a battery that is intrinsically safe, recyclable and scalable. Applications ranging from a few kilowatts to hundreds of megawatts make this battery eminently suited to play a very significant role in the energy transition in Europe" says Dr Ir Roelof Platenkamp, Board member of UET with focus on European developments. "The 20+ year lifetime and zero capacity fading make the Reflex Module highly competitive on the basis of total cost of ownership in a market that up to now has been dominated by Lithium ion. We are proud to cooperate with ENGIE and look forward to a long and mutually rewarding relationship."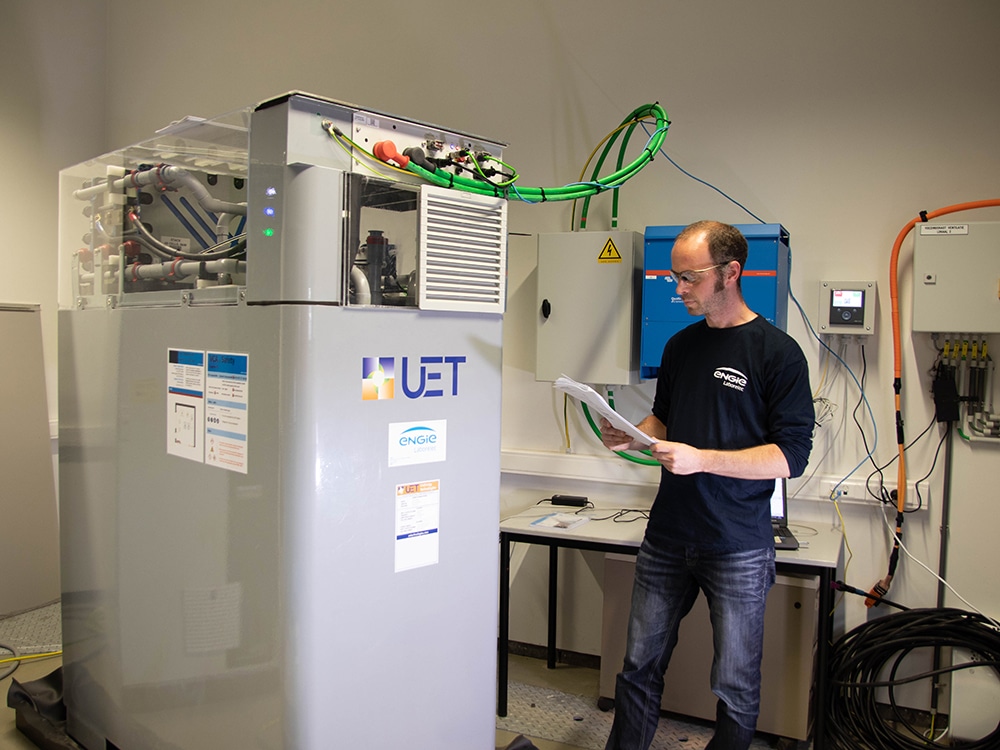 About ENGIE
Our group is a global reference in low-carbon energy and services. In response to the urgency of climate change, our ambition is to become the world leader in the zero carbon transition "as a service" for our customers, in particular global companies and local authorities. We rely on our key activities (renewable energy, gas, services) to offer competitive turnkey solutions. With our 160,000 employees, our customers, partners and stakeholders, we are a community of Imaginative Builders, committed every day to more harmonious progress. Turnover in 2018: 60.6 billion Euros. The Group is listed on the Paris and Brussels stock exchanges (ENGI) and is represented in the main financial indices (CAC 40, DJ Euro Stoxx 50, Euronext 100, FTSE Eurotop 100, MSCI Europe) and non-financial indices (DJSI World, DJSI Europe and Euronext Vigeo Eiris – World 120, Eurozone 120, Europe 120, France 20, CAC 40 Governance).
A propos de Laborelec
ENGIE Laborelec, an entity of ENGIE Research & Innovation, is a leading expertise and research centre in electrical power technology. Drawing on the skills of 350 highly specialized engineers and technicians, it provides operational assistance, technical consultancy and applied R&D services, and is active in the entire electricity value chain. Its services support a wide range of customers in the areas of electricity generation, transmission, distribution, storage and final use, with a particular focus on the energy transition and its so called 3 Ds – decentralization, decarbonization and digitalization. ENGIE Laborelec is a global actor, with activities in more than 60 countries and offices in Belgium, the Netherlands, Germany, Chile and Abu Dhabi. www.laborelec.com
A propos de NRG Systems
UniEnergy Technologies (UET) manufactures modular Vanadium Flow Batteries for safe and high-performance bulk electricity storage applications. UET's Reflex™ product leverages a patented and award-winning green chemistry breakthrough from the US National Labs for commercial and industrial use. With over 15 years of field experience to draw from, and a $500MM international collaboration, ReFlex™ delivers the combined safety, performance, and operation flexibility in a compact and recyclable package that is impossible to achieve with legacy technologies. As part of a vertically integrated team with GW-scale factories, UET is ramping production to deliver on existing commercial and industrial projects worldwide with applications including PV+Storage, commercial and industrial facilities, microgrids and electricity warehousing. www.uetechnologies.com