ENGIE Laborelec is implementing a flexible and robust method to accelerate vanadium redox flow battery ageing to support ENGIE purchasing and predictive maintenance programmes. The method of choice was validated in 2022 on a test rig.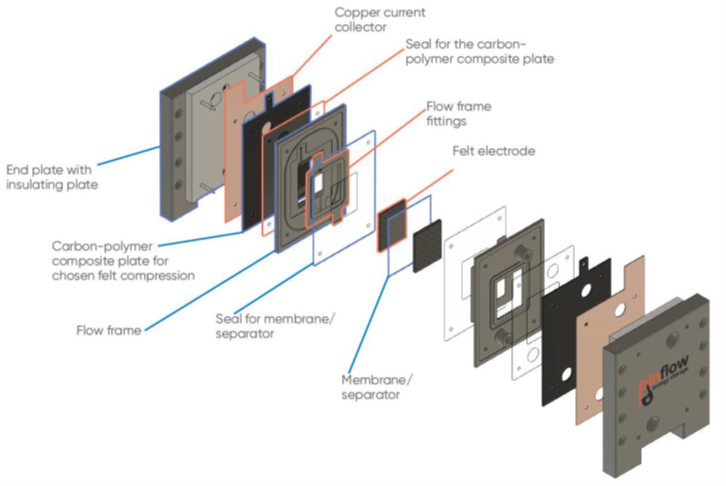 Redox flow battery (RFB) technology, initially developed back in the 1950s, is receiving renewed interest today as a potential solution to provide reliable, stable, and flexible large-scale battery storage capacity. While RFB manufacturers are claiming long life cycles for their products, little is currently known about the actual long-term behaviour and degradation process of the cell's subcomponents, such as the electrodes and proton exchange membrane. To address this, Laborelec has been developing a stress-test to accelerate RFB ageing. The scope was narrowed down to vanadium RFBs and, following a literature study in 2021, the cell-in-series (CIS) method was selected as the prime candidate for the accelerated ageing testing.
CIS method validated
In 2022, the CIS method was tested and evaluated as part of a master thesis at the University of Antwerp. This was carried out on a small provisional test rig in Antwerp because components for the planned test rig at Laborelec experienced supply delays.
Tests with the CIS cycler in Antwerp showed that, with this method, a 7-cycle lifetime could be simulated in a single cycle. This means that degradation occurs much faster than during charge-discharge cycles. It is also far more realistic than the classic method of simply submerging subcomponents in the aggressive battery electrolyte.
Further tests and benchmarking
The master thesis also identified a number of hardware factors playing a significant role in RFB performance, including cell design, the presence of residual oxygen in the system, and the electrolyte formulations.
Meanwhile, Laborelec's test rig at the University of Antwerp has been installed and tests are being carried out on it as part of a new master thesis launched in autumn 2022. In this work, electrochemical analysis techniques such as impedance spectroscopy are used to monitor the health of the cell's subcomponents while the battery is in operation.
The two test rigs allow different commercially available electrolyte formulations and various operational parameters to be benchmarked. This will also be evaluated in subsequent phases of the research programme.