Optimizing solar panel cleaning in pv installations
Solar generation is the most cost-efficient way of producing electricity. It is leading the expansion of renewables in many parts of the world. But solar panels get dirty. In fact, accumulations of dust and dirt can have a big effect on performance and put investment at risk.
ENGIE Laborelec has developed a complete range of services to help operators tackle solar panel soiling in photovoltaic plants. With two simple aims: driving down cleaning costs and eliminating losses due to soiled panels. Our solution is optimizing solar panel cleaning in PV installations.

In some parts of the world, soiling is the solar farm operators' biggest challenge, putting investment at serious risk. Routine cleaning is the obvious answer, but costs could easily get out of control, cutting deep into profits. So how can the solar plant operator optimize their cleaning strategy, drive down cleaning costs and eliminate losses?
ENGIE Laborelec's four stage approach
1 - Is cleaning an investment worth making?
It's all about knowing the sites's soiling rate
According to Thore Müller, Product Manager Cleaning Optimization at ENGIE Laborelec, "To find out whether investment in cleaning is worthwhile, you need to know the site's soiling rate. How much energy you're losing, and how much it's worth. And that means getting the right sensors in exactly the right places."
"From our experience, soiling rates are a bigger problem than many people anticipate, and traditional cleaning methods are very inefficient." Thore Müller confirms: "Precise information on the extent of the problem is crucial when deciding what to do about it."
ENGIE Laborelec researches the best soiling sensors on the market so that they can be incorporated into custom made solutions for each individual utility-scale solar plant.
"We look for the most appropriate combination of sensors for the site and deploy them effectively and efficiently, and that's what makes the difference," says Thore Müller.
"To find out whether investment in cleaning is worthwhile, you need to know the site's soiling rate, how much energy you're losing, and how much it's worth."
Thore Müller
Product Manager Cleaning Optimization
ENGIE Laborelec
2 - Cleaning that works for your site
How do you choose the best?

There are many cleaning systems on the market, all with their advantages and disadvantages. Faced with this, many operators still just clean manually, a labour-intensive and inefficient undertaking which uses a lot of water.
For moderate soiling, traditional tractor-mounted cleaners with large water tanks and powerful brushes can be good for basic cleaning of larger areas. But for heavier soiling, particularly in remote places, robots with dry rotating brushes can be deployed far more intensively, but it depends whether the panel design allows it.
So which cleaning method works best for you?
ENGIE Laborelec can find a solution that targets your situation exactly. After identifying the most appropriate methods, we are on hand with professional advice at every stage of the procurement and deployment process. Depending on your staffing and the resources available to you, we can help you with:
writing specifications,
tracking down the best suppliers,
negotiating contracts,
witnessing during commissioning, and
quality control.
3 - Adapt cleaning to real site conditions using CleanRight
Drive down operating costs and water consumption
If you clean solar panels more often than you need to, you incur higher costs without getting the desired effect. If you don't clean them enough, the panels produce less electricity. Operators may not even realize that soiling rates can vary across the plant, depending on their precise location. With no calculation tools, and based on limited data, operators often have little choice but to act on guesswork, whether that means being over-cautious or taking a chance.
You have to find the right balance, and finding that balance may not be straightforward.
CleanRight is ENGIE Laborelec's answer to this. It's a computation tool which evaluates the potential impact on costs of every additional round of cleaning. Its sophisticated algorithms allow it to precisely calculate and constantly update a more effective cleaning schedule.
Based on probabilities,
CleanRight
tracks
:
how the plant performs,
representative soiling rate throughout the plant,
predicted weather conditions, and
electricity prices.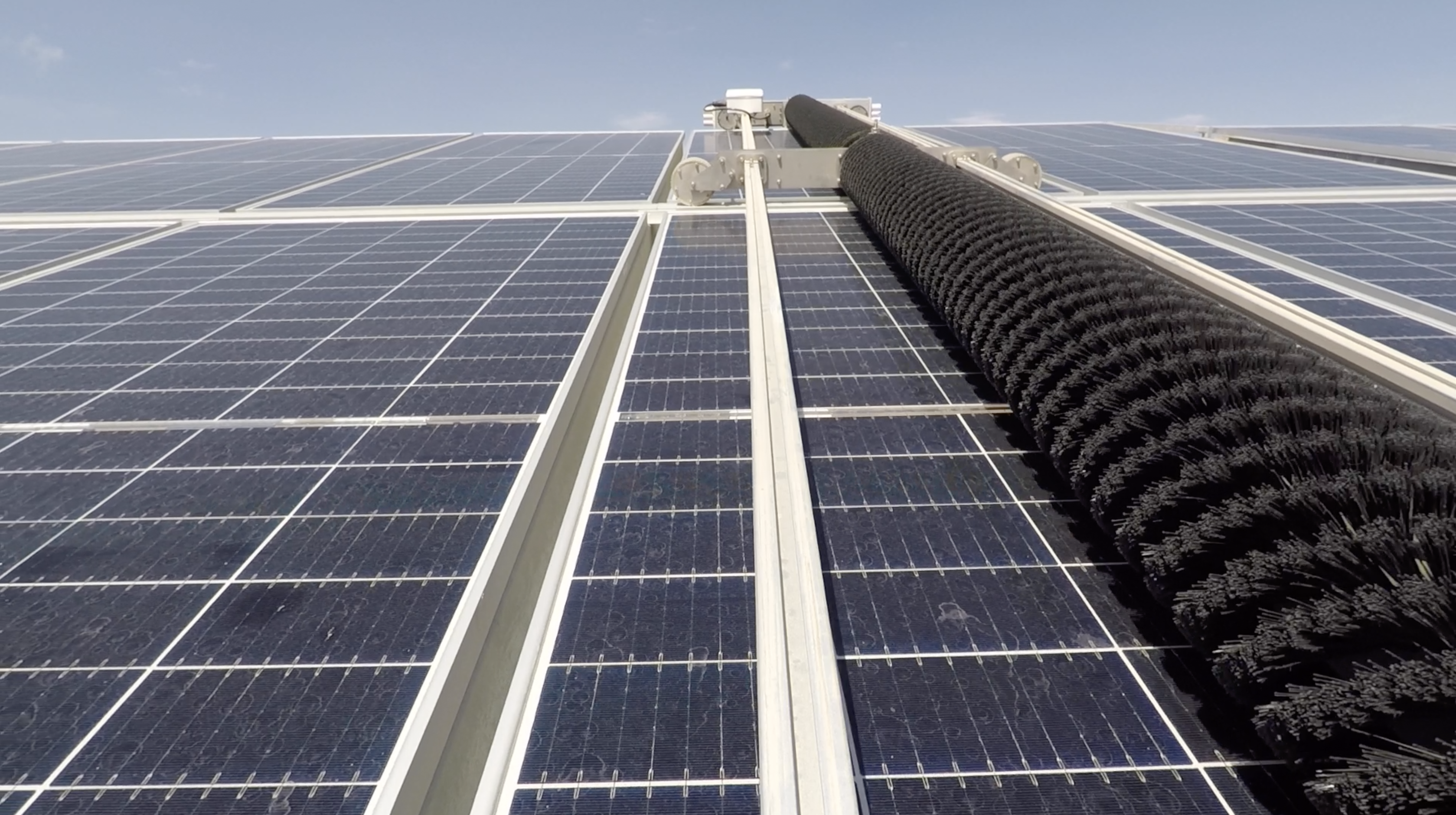 The CleanRight system is cloud-based, giving operators and maintenance staff total access to the   data. Operators get a clear cleaning schedule, available at all times and updated to reflect changing conditions, identifying exactly which parts of the plant to clean and when.
"And the ENGIE Laborelec system makes resource allocation easy. There's even an alert system," says Müller. "You don't clean if you don't have to, and that's how you save money."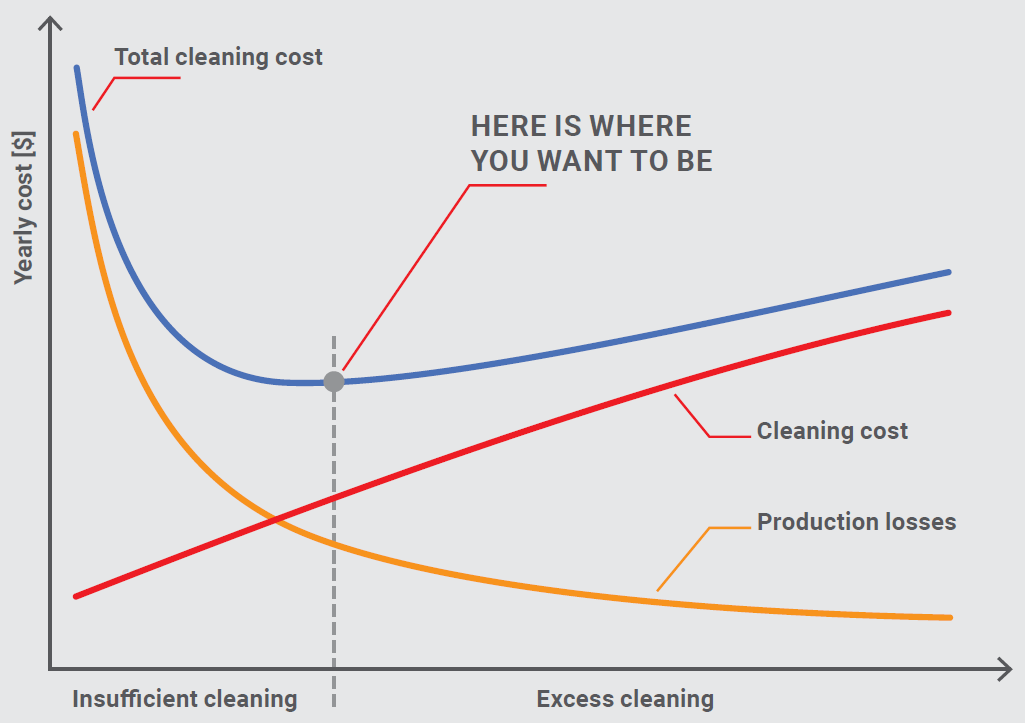 Finding the optimum is what CleanRight is all about. The graph shows how cleaning costs and production losses depend on the frequency of cleaning. Cleaning too frequently cuts losses but leads to high costs. Cleaning too little cuts costs but leads to heavy losses. Guessing is not a reliable option and could be costly. CleanRight eliminates guesswork and calculates the optimal cleaning sweet spot.
4 – Evaluating the results
Continuous monitoring over the longer term evaluates the savings achieved by this data-driven strategy compared to cleaning schedules based on guesswork. This is an important ENGIE Laborelec service to investors and asset managers, with clear charts, graphs, and figures, and a detailed analysis allowing stakeholders to see for themselves the real tangible benefits.
ENGIE Laborelec's CleanRight system makes solar panel cleaning cost-effective so that asset owners can take back full control of investment and profitability.