It all begins with a trustworthy
and unbiased assessment
of the catalyst condition
Reducing costs in deNOx plants through extending scr catalyst lifetime and finding optimal asset management scenarios begins with a trustworthy and unbiased assessment of the condition of the catalysts. But scr catalyst testing can be tricky, since selecting the right tests calls for the right questions to be asked first. At ENGIE Laborelec, you've come to the right place. We perform the complete range of regular and more specialized scr catalyst tests. You get unbiased support to fit your objectives, independently from the original equipment manufacturer or regeneration company.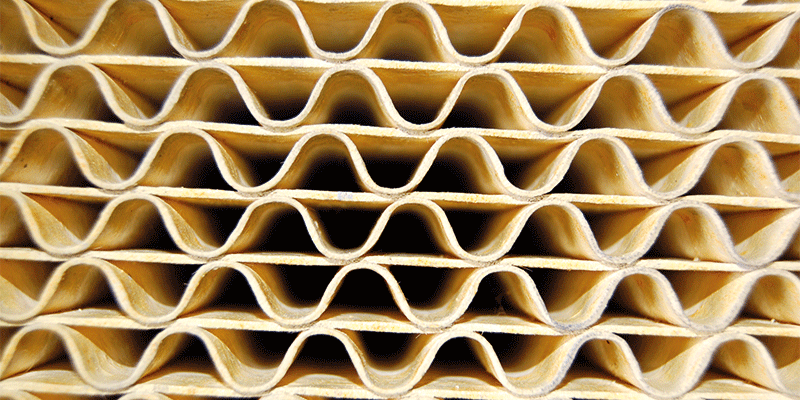 Why is SCR catalyst testing so important?
SCR Catalyst properties change over time because of progressive deactivation, causing SCR deNOx plants to decrease in efficiency. Because NOx and NH3 emissions increase only at the very end of the catalyst lifetime, measuring only emissions as part of condition monitoring is not effective.
For this reason, all the standards and best practices call for regular scr catalyst testing, which gives operators more time to anticipate the end of life of the scr catalyst and to decide on the most appropriate asset management scenario. It also allows them to budget and plan for appropriate measures to be taken during operation, or any outage, to extend the lifetime of the scr catalyst.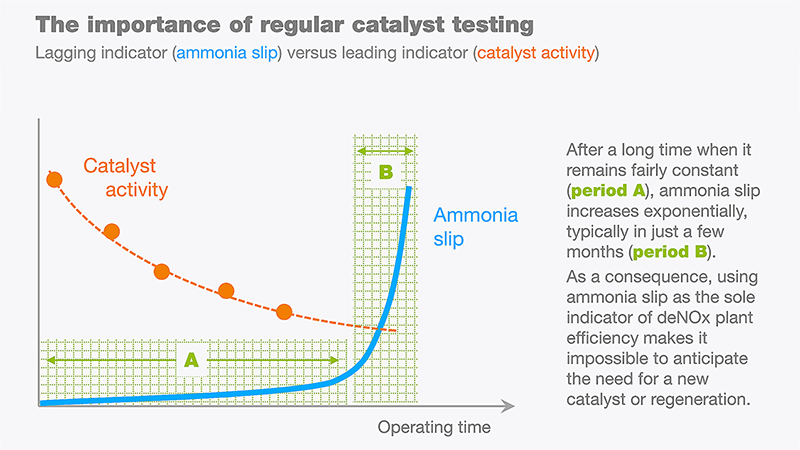 Why is SCR catalyst testing tricky?
Practice shows that getting relevant answers about an SCR installation requires scr catalysts to be tested properly. Before choosing a partner, it is important to keep in mind a number of challenges linked to scr catalyst testing. For example:
For each type of catalyst and application, there are specific testing standards. Some original equipment manufacturers do not apply the correct types of testing.
The list of tests applicable to SCR catalysts is long. For a reliable scenario analysis or to answer questions related to lifetime extension correctly, it is important to choose only the tests that are appropriate and relevant, to reduce costs.
The measurement results are strongly dependent on the testing conditions. Most OEMs perform tests on scr catalysts under their own standard testing conditions, which are not relevant for your plant operational conditions.
Many OEMs do not provide completely transparent results, for example by delivering only percentage values instead of absolute values, preventing any independent catalyst lifetime forecast.
ENGIE Laborelec, with its independent expertise, guides you in the selection of the right testing method and the minimum relevant tests, carrying out measurements in your actual plant conditions and delivering transparent results. This approach means that the SCR operator receives unbiased and relevant scr catalyst testing data as a basis for assessing scr catalyst lifetime as well as getting clear asset management guidelines.
Discover our catalyst testing offer
Whether for the purpose of lifetime extension or in the context of scr catalyst performance guarantee testing,  ENGIE Laborelec carries out all relevant testing on SCR catalysts. Our independence from OEMs assures results that are:
unbiased
transparent
representative of your plant operating conditions
Our test facilities include:
a full scale SCR catalyst test bench located in Gelsenkirchen, Germany (full sample size testing);
a semi-bench scr catalyst test, located at our Linkebeek site, 15 km from Brussels, Belgium (smaller sample size for specific applications).
We can perform the following main measurements, on plate, honeycomb and corrugated catalysts, depending on your needs and your application:
catalytic activity (K value)
SO2 to SO3 conversion rate
pressure drop
XRF chemical analysis on both scr catalyst surface and bulk
BET surface area
BET pore volume distribution
SEM analysis of scr catalyst surface
XRD chemical analysis
mechanical stability testing
Other less common tests are also available. Feel free to get in touch with us if you have specific needs.