As demand for residential batteries started to boom in the Flemish region of Belgium in 2021, ENGIE Laborelec's experience in this area, developed through years of R&D, proved to be invaluable.
A growing number of households is considering purchasing a home battery to help increase self-consumption of the yield from their PV installation. However, many still wonder if prices anywhere between €2,500 and €8,000 represent value for money, and safety concerns are also an issue.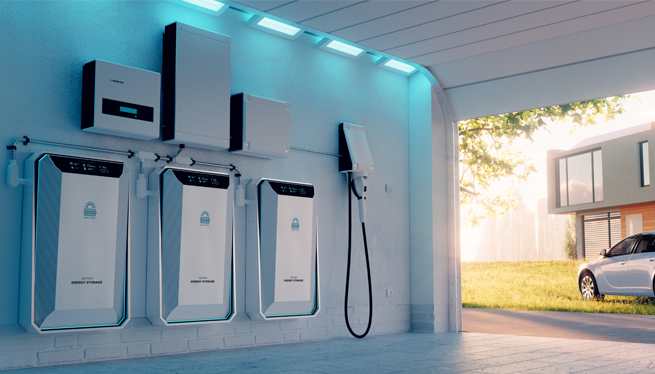 Testing and benchmarking
ENGIE Laborelec has been developing its expertise and experience in this area for many years. We have tested and benchmarked commercially available lithium-ion and other types of batteries for domestic use. These tests involve verifying and comparing technical specifications and functionalities such as the ability to increase self-consumption, backup capability, charging or discharging in response to energy prices, and forecasting production and consumption. We have also developed and maintain safety guidelines for installing home batteries.
R&D delivering great value
This long-term commitment to R&D means that we are fully equipped to provide authoritative and accurate advice wherever it is needed. In 2021, we clearly demonstrated this in Belgium's Flemish region.
With new regulations coming into force in 2020 and 2021, PV owners were suddenly spurred on to maximize self-consumption and optimize injection into the grid. As a result, many households were looking for a suitable battery solution, not least because of subsidies being offered from 2020. ENGIE Laborelec was on hand to support ENGIE in establishing an attractive offering to meet this market need.
Finding the best solution for any given situation
It's clearly not a one-size-fits-all thing – context is extremely important. What region are we in? Is there an existing PV installation? What's the PV capacity and what type of inverter has been installed? What's the annual consumption? Are any major consumption units, such as an EV or a heat pump, likely to be added in the future?
"We've been conducting simulations based on a wide range of consumption and production profiles," says Laborelec expert Erwin Brouwers. "This allows us to find the optimum battery size for every situation."
Feedback to authorities
We're currently monitoring and analyzing a selection of installed batteries. Based on this analysis and backed by our years of experience with power storage solutions, we also provided feedback to help the Flemish authorities in their decision-making.
Would you like to learn more about this project?