Laborelec, part of ENGIE Research & Innovation, completed the first studies for the installation of a storage solution for FORWARD2030, which aims to demonstrate the viability of a zero-carbon energy system combining wind and tidal energy with energy storage solutions and green hydrogen production.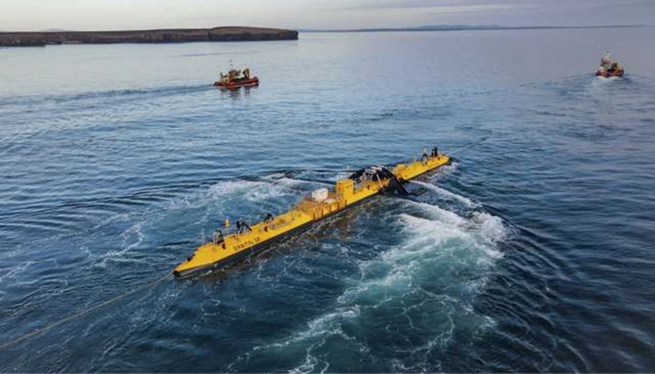 Funded by the EU Horizon 2020 programme, the FORWARD2030 research and innovation programme's goal is to develop a multi-vector energy system for the future and demonstrate how predictable and stable tidal energy, wind energy, energy storage technologies, and green hydrogen production can be combined in a smart way so that a reliable and stable zero-carbon baseload can be injected into the grid.
The project will also look at reducing the cost and life-cycle carbon footprint associated with offshore tidal energy, making it more environmentally sound and achieving better public acceptance, while improving commercial return and system integration. Some of these conclusions will be looked at and extrapolated to the larger offshore energy sector.
ENGIE Laborelec brings to the project its expertise in combining different types of renewable energy with energy storage systems and grid integration, amongst other domains of experience.
Battery sized and purchased
Earlier this year, the preliminary investigation stage was completed. During that investigation, Laborelec gathered information on the site layout, profile, and set-up, as well as energy data on existing tidal and (onshore) wind power production and the additionally planned tidal systems.
Based on this information, Laborelec experts concluded that the most suitable power storage solution to be installed at the project site in Orkney, Scotland (EMEC) would be a 1.2 MW – 1.5 MWh Li-Ion battery. A request for quotation was issued, including specifications for installing and connecting the battery, and a supplier (Entech Smart Energies) was selected and contracted.
More challenges ahead
Preparations are ongoing to install the battery by the end of 2024.
Laborelec expert Fiona Buckley also anticipates the upcoming challenges when the additional tidal power capacity will be installed: "We'll be looking at the viability of combining different solutions, together with complicating factors such as ramp-up times, sensitivity to temperature fluctuations, and the impact on the environment."
Broad involvement in the whole project
Laborelec is also involved in many of the project's other work packages. For example, experts carried out an analysis of the O2-X orbital turbine to enhance its reliability through a holistic condition monitoring (CM) approach that mitigates critical risks. The company's expertise and knowledge in CM and operations and maintenance allowed several improvement opportunities to be identified.
Laborelec also contributed to other areas of the project, including the integrated environmental monitoring system's design specification and the volume manufacturing strategy and approach, as well as developing similar projects at other potential locations and assessing their technical and socio-economic impact on the UK and the EU.
Alongside FORWARD2030, certain partners, including Laborelec, are also involved in the MaxBlade project, which focuses on blade scaling and digital engineering. Finally, discussions are underway to form a third consortium.